fifteen

Show label +
Hide caption –



WAIOURU MILITARY CAMP, New Zealand – U.S. Army Staff Sgt. Francine Talley, a culinary specialist assigned to the 130th Engineer Brigade, 8th Theater Sustainment Command of Schofield Barracks, Hawaii, pours cocktails during the bartender evaluation …
(Image credit: US Army)

SHOW ORIGINAL












2/5

Show label +
Hide caption –



WAIOURU MILITARY CAMP, New Zealand – U.S. Army Staff Sgt.Francine Talley, a culinary specialist assigned to the 130th Engineer Brigade, 8th Theater Sustainment Command of Schofield Barracks, Hawaii, lays her folded napkin during a stewardship …
(Image credit: US Army)

SHOW ORIGINAL












3/5

Show label +
Hide caption –



WAIOURU MILITARY CAMP, New Zealand – U.S. Army Lt. Col. Julio Colongonzalez, commander of the 524th Combat Support Support Battalion, 25th Support Brigade, touches his nose with the …
(Image credit: US Army)

SHOW ORIGINAL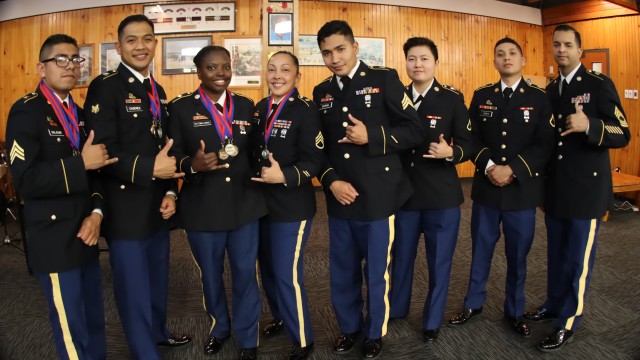 4/5

Show label +
Hide caption –



WAIOURU MILITARY CAMP, New Zealand – The U.S. Army Hawaii culinary team poses for a photo here following the 42nd annual Roy Smith Memorial Culinary Competition Awards on April 9, 2019. The team placed silver in petit fours and flambé …
(Image credit: US Army)

SHOW ORIGINAL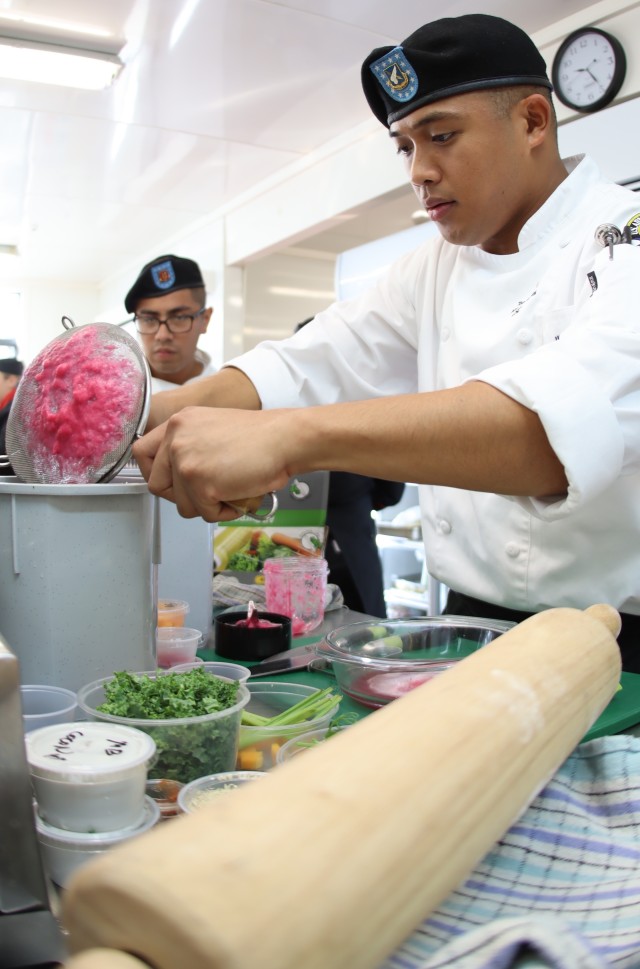 5/5

Show label +
Hide caption –



WAIOURU MILITARY CAMP, New Zealand – US Army Spc. Markowen Casares, a culinary specialist assigned to the 25th Combat Aviation Brigade, 25th Infantry Division, prepares a meal during the Roy Smith Memorial's 42nd annual culinary competition on April 9th ​​…
(Image credit: US Army)

SHOW ORIGINAL

WAIOURU MILITARY CAMP, NEW ZEALAND – "The army runs on its stomach, everyone knows it," said Lt. Col. Tim Marsden, Chief of Staff of the New Zealand Training and Doctrine Command, during his opening speech at the awards ceremony for the 42nd Annual Culinary Competition for Roy Smith Memorial took place here from April 8-10, 2019. "It takes an incredible amount of energy to prepare and serve good food, but you all took it to the next level by choosing to be judged how you did it."
Seven U.S. Army culinary specialists flew 4,500 miles to compete.
The group, commonly referred to as Team Hawaii, is assigned to the 25th Infantry Division and the 8th Theater Sustainment Command from Schofield Barracks, Hawaii.
The competition is designed to honor the life of Lance Cpl. Roy Kenneth Smith, a New Zealand Army chef who was tragically killed in an accident five years after serving in the military. A large amount of money was donated by the community to honor his memory and some of these funds were used to create the concept of the new competition in 1976.
The first inter-agency competition was held in 2000 between the Royal New Zealand Navy and the New Zealand Army.
This year's attendees included chefs from the Australian Defense Forces Joint Logistics Command; Teams from each branch of the New Zealand Defense Force; as well as the team from Hawaii.
"This is the pinnacle of military cooking," said Warrant Officer Class 1 Lance Ball, chief instructor for the Defense Catering School.
The competition includes a written exam, knife skills, device identification, six-course meal, tablecloth and napkin folding, fruit slicing, barista and bartender judged by some of New Zealand's most renowned chefs.
"Most of the judges taught in our school for several years and then worked in some of the highest civil catering companies in the country," said Ball.
Team Hawaii's first trip to New Zealand was last year after an invitation from 25th Inf. Div. Deputy Commander-in-Chief for Interoperability New Zealand Army Lt. Col. Trevor Walker linked the New Zealand Combat Sustainment Service Battalion with Hawaii's own 524th Combat Sustainment Support Battalion.
"This experience is truly unique," said Master Sgt. Gabriel Delagarza, senior sergeant of the 25th Inf. Div. Food services. "I didn't have that type of hospitality immersion until I served as a dedicated adjutant under an officer general and [through this partnership] We are able to train our junior culinary professionals in some fine dining details much earlier in their careers. "
The caterers for the New Zealand and Australian Defense Forces train their troops not only in how to prepare meals, but also in outdoor etiquette.
The Hawaii team learned on their feet and placed silver in petit fours and flambé and bronze in main course and dessert.
"I've spent a lot of time researching steward duties because we don't typically use them in our restaurants," said Staff Sgt. Francine Talley, head chef on the Hawaii team. "I think our biggest advantage was the fact that we worked so closely as a team."
Team member Spc. Markowen Casares, assigned to the 25th Combat Aviation Brigade, is also an asset to the team who received the Armed Forces Chef of the Year title last month during the 44th Annual Joint Culinary Training Exercise at Fort Lee, Virginia.
"I think everyone brought something to the team and the most important thing was that we were all ready to learn quickly and adapt to the differences we had in the way we were in the kitchen compared to others Countries have worked, "said Casares. "It's definitely something that has brought us closer together and given us the opportunity to build lasting friendships with our overseas partners."
The US Army 524th CSSB commander, Lieutenant Colonel Julio Colongonzalez, repeated Casares' assessment of the trip.
"It really showed interoperability," he said. "The competition was tough but friendly. We look forward to working with our allied nations soon."